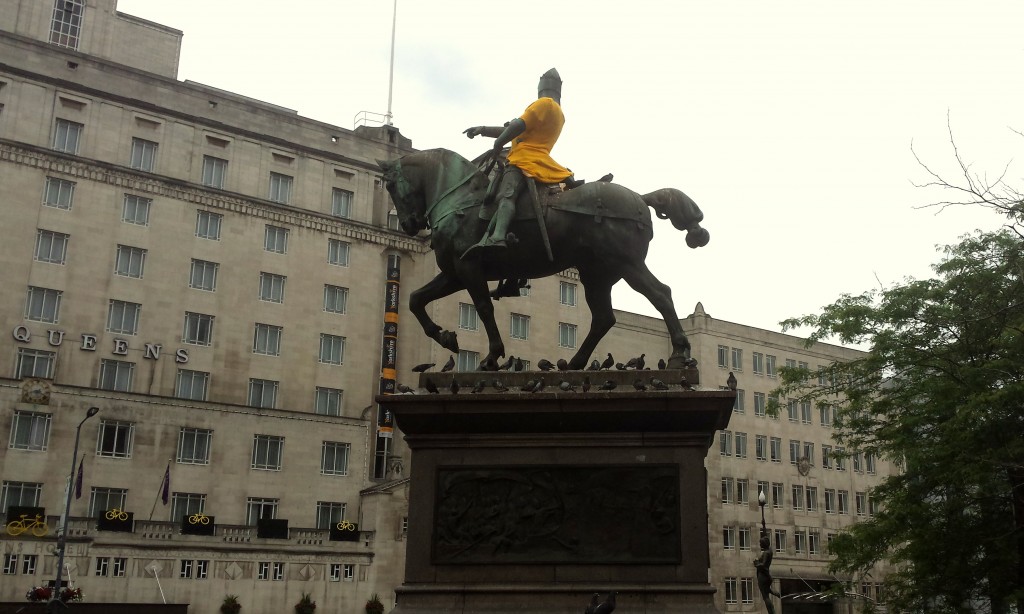 I wasn't going to write about it.
For 18 months the race has been a shadow in the distance, determining a lot of what I do at work. It hasn't really felt like a free cycle race for people to enjoy watching, just a big word cloud of 'bus diversions' and 'traffic management' and 'road closures' and 'one version of the truth' (an irritating maxim made up by people who want the world to stand still whilst they write a report about it). And it has meant questions about safety for cyclists on the road, and whether it's just about elite athletes and big corporations, and we keep talking about that dodgy idea 'legacy'.
But I was walking round town on Wednesday… and something is definitely going on, and it feels like it needs writing about.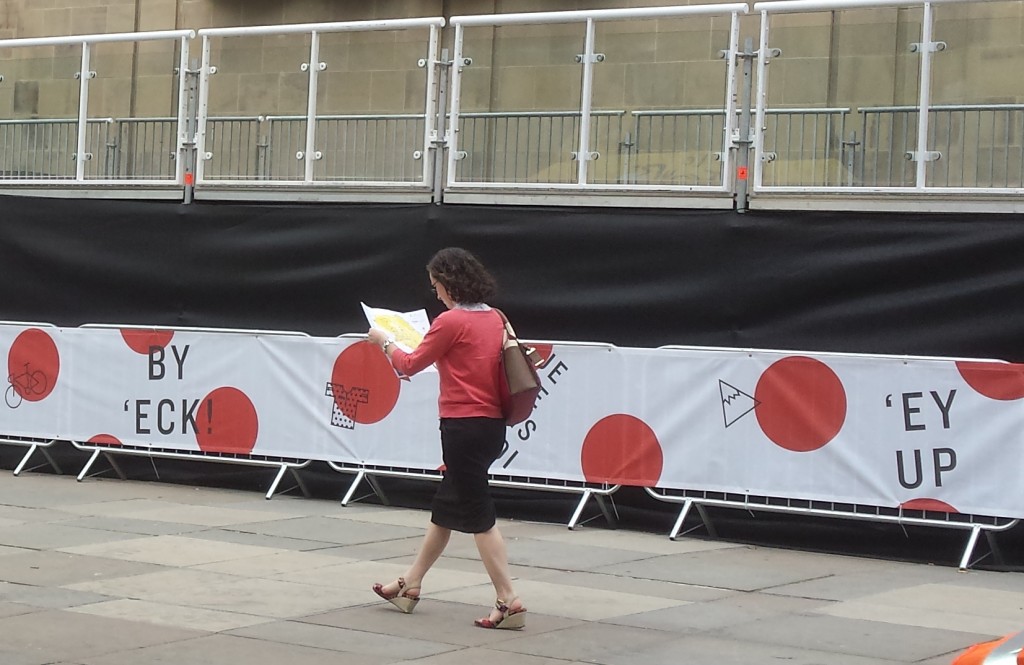 So this is my four days of Le Tour Yorkshire. Not sure why four but I've started today and I guess on Monday it'll feel like it's finished. Maybe.
I've been quietly excited about this since December 2012. I heard we were bidding for the Grand Depart, and then what felt like only a few days later, we won! I can remember jumping around at work, high on adrenaline, aware that I looked like a casualty of too many Beroccas, whilst my work colleagues tried to understand why I'd suddenly lost it in the middle of the office.
They're nice, so they humoured me. But a year later, everyone knows it's big.
And Leeds has responded in a pleasant, understated, mischievous way.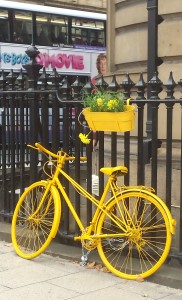 You could get hung up on the merchandise shops in City Square and Victoria Gardens selling tat from yellow caravans, but what people have warmed to are the yellow bikes in various corners. And the yellow flowers. When did the city gardens people realise they'd have to plant all their bulbs again?

And then the piece de resistance… the maillot jaune on the Black Prince, not a figure noted for his compassion towards the French but we'll let that pass. And his partner in crime, the yellow-clad nymph. When she had nothing on, she was classic, but now she's a right cheeky slapper.
In Huddersfield they have a farm in front of the railway station. Knaresborough has a polka dot painted B and B. There are fields in the Dales sporting massive artistic visions, most visible by helicopter. Lots of people are decorating their houses with knitted bunting, wrapping bikes in golden ribbons, planting marigolds in window boxes, wearing yellow nail varnish and revelling in Yorkshire banter.
Tonight I mostly failed to see the riders parade through Millennium Square because even at this pre-event, crowds were busy enough that I could only see the top of some famous rider's helmet, and the big yellow Yorkshire Y on the top of a team car, weirdly carrying a lass who could raise one leg above her head for some reason.
Tomorrow I'll be involved in race co-ordination. My job means that road closures and public transport services are my problem. Day two's post may be a bit different but until then…
Image credits, thanks to:
Well all these pics are mine. Pop in a link to this site if you want to use them, ta.