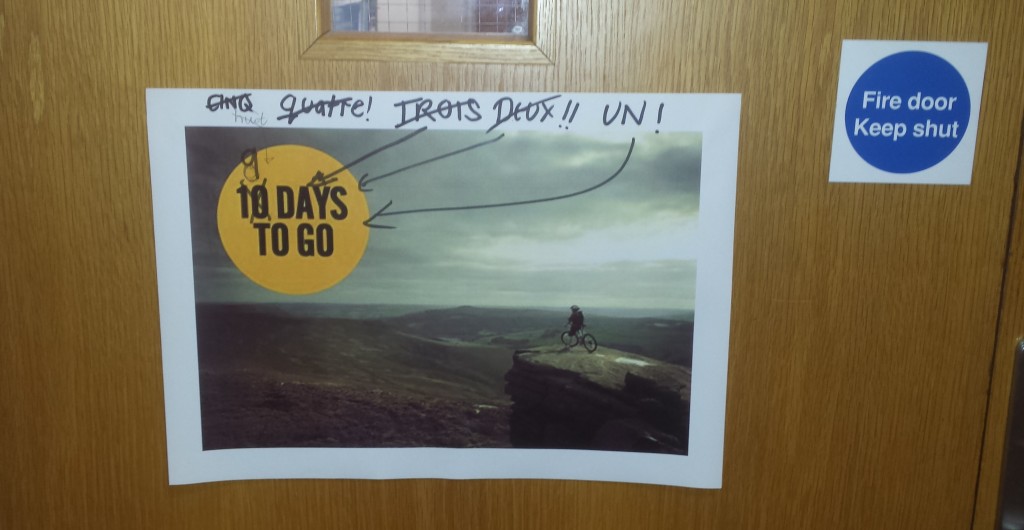 A day of contrasts.
The morning was oddly domestic as I tidied and changed bedding in anticipation of my brother's family staying overnight, all of us ready to wake early Saturday and find a viewing space up the road at Scott Hall Road spectator hub.
My brother – a keen cyclist and triathlete from Wakefield – has been wildly excited about the Tour for over a year but naturally only decided to stay at my house in Leeds two days ago. In a reversal of fortunes, I meanwhile would be spending the evening at the Tour de France control room in Wakefield, acting as back-up to a work colleague, Dave, who has been leading on all the traffic and transport arrangements. To give you an idea of what that involves, have a look at the post I did about the command post exercise…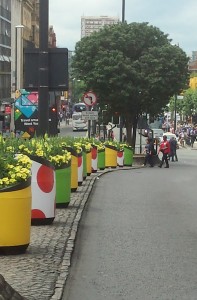 Leeds City Centre though was getting even more glammed up. Victoria Gardens was thronging with people at lunchtime, the flowerpots had been given a race jersey makeover, and every so often there'd be a group of people who clearly looked new in town.
Meanwhile Fan Vans were blaring out music and flogging goodies to people in a range of yellow clothing.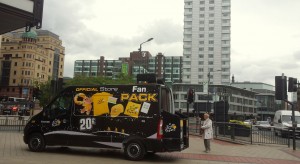 This one kept playing The Macarena which took over as my cheerful but irritating earworm for much of the afternoon.
Instructions from the control room were that from Friday to Sunday all personnel had to wear our TdF regulation fuchsia coloured t-shirts, fetchingly embroidered on sleeve and shoulder. This meant my sitting on the bus trying to look inconspicuous and hoping to come across as rather official, rather than as an excitable tourist with appallingly loud dress sense.
If you're one of the twitterati, you'll have seen any number of photos tweeted of the city and the sense of this being something like Christmas Eve, all nervous anticipation… And like Christmas, the Tour has its own tiny gang of Scrooges… World-famous free cycle race? Massively successful and inclusive cultural festival right across the County? Bah humbug.
Mid-afternoon and I was on my way to race control, to be met by a sea of deep pink shirts and a room of monitors displaying all manner of things but none, to my disappointment, seemed to be showing the World Cup.
Dave talked me through road closures, barriers and cones, and VMS signage (you know those lighty-uppy signs giving road disruption messages). Most seemed to be going to plan, with the occasional temporary loss of a steward or a diversion sign. And as it moved into the evening, it was time for me to take over.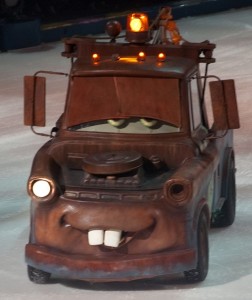 One key task was to spot any cars blocking the route and check if any needed towing away to a harmless place round the corner. Not a job I've ever had to do before and so far it all seemed fairly calm out there. But fourteen people will be cursing me tomorrow morning.
By the time it got to ten o clock, the room was quietening down and this gave us chance to log out of some of the serious stuff on the monitor and watch the second half of Brazil vs Colombia.
So quite soon I'll be making my way home for four or five hours sleep before Race Day!
Goodnight…
Image credits:
All mine! Except last one, thanks to…
Tow Mater Disney On Ice Cars: Choy Lim or Nanette Rueda @ Bell Centre [Public Domain]