Saturday morning dawned quickly and noisily with a phone call from one of my staff just after half six. On a normal day this would have been a bit painful, but after getting to bed at a little after two, it was… bleaugh.
Luckily this was a good time to get up and head off to Scott Hall playing fields to watch first the publicity caravan and then the race – le premier etage du Tour de France!
Our family was a team of three halves.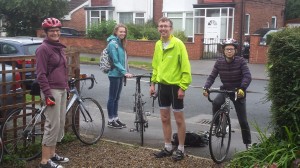 Part One – my brother's family. Please note the fancy cycling kit and bouncy spring in their ever so healthy steps.
Part Two – me and my son Matthew. Slow to wake, the walk to Scott Hall necessary to allow caffeine time to work.
Part Three – Matthew's stepmum and family. Eating leisurely breakfast – 'you've seen one publicity caravan, you've seen 'em all'.
It was still pretty quiet when we arrived. A family just below the park had enterprisingly set up sales of coffee and hot dogs in their driveway, so more caffeine helped the day shape itself. The party mood was aided by waving gendarmes on sturdy blue motorbikes and the lady beside me mock-swooned as one blew a kiss. I'm not so sure some of the more stolid looking local bobbies were greeted quite so well but we still cheered happily as a handsomely decorated riot van drove past peeping its horn. Aww, community policing.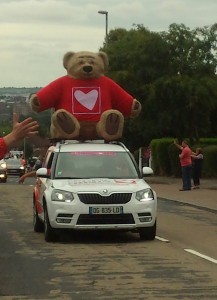 I've heard la caravane publicitaire described as a way of voluntarily having someone take your eye out. There's definitely a skill to being in the right place to catch the tat that is thrown out by the 180 sponsors' vehicles, as opposed to getting thwacked unawares by a random keyring, wristband or dubious item of edible gunk.
With help from my nephew, Tour pro Joey, we gathered two hats (both Skoda), three key-rings (P and O, Bic pens and a soft cow), and two wristbands – Sheffield Hallam university and British Cycling. I had to fight a child for the latter but I definitely got there first.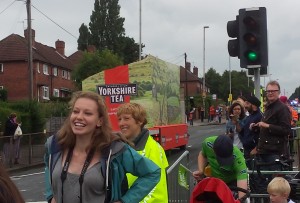 The soft cow was a gift from French company RAGT – 'semences et les agriculteurs – l'equipe qui gagne'. Apparently 'seeds and farmers – the team that wins'. Err yeah, makes sense. The cow looked nice anyway.
And then the race.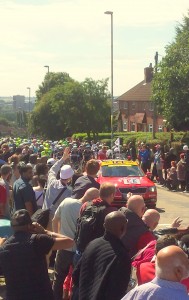 Ok, I know they weren't racing as they went up Scott Hall but I made it my mission to be high enough to see some professional cyclists. And so I spent ten minutes balanced precariously on top of a guard rail, shins braced against the top rail with all the poise and stability of a pack of winning French seeds in a wind tunnel.
But it was beautiful. The noise of the car horns, the cheering of the crowds, a man near us blowing his heart out into an enormous conch shell, his children playing drums, and the quiet smiles of the cyclists themselves. And my family enchanted by the curiosity of it all – a handful of pure French culture – but on Scott Hall Road!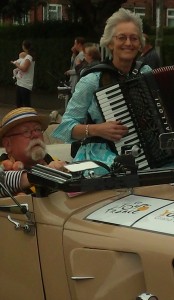 By now the sun was out. And following the peloton, the team cars were decked with row upon row of gorgeous, ridiculously expensive bikes; the coaches speeding along to make sure they were with their teams by Harewood; and alongside them (I'm not sure this was supposed to happen) ordinary people who wanted to have a go at cycling a bit of the route. And every time a cyclist came past, the crowds whooped and cheered them on as much as any of the so-called elite. I hope, Warhol-like, that they enjoyed their seconds of fame.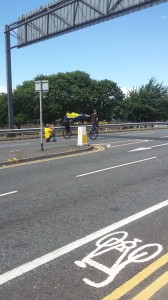 And then it was time for me to go to work. So time to walk back into town along traffic-free roads, a couple of unicyclists, lots of pedestrians and cyclists getting along much better now that the cars were out of the way. It was ridiculously liberating to see how relaxed, harmonious, unfrightening things could be if we could just find a way for cars to be part of the everyday mix of getting around, not the dominant species.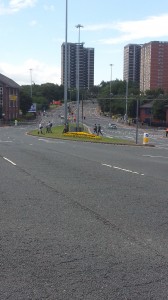 I could tell you more about race control again. We were busy. There were lots of issues to sort. Tomorrow I might tell you about staying up late to put out road diversions, and lorry drivers who won't move their vehicles, and making sure you put the right sign at the right junction.
But when I walked into the control room, the race had reached Buttertubs Pass at the top of the Dales, and we watched mesmerised as the TV screen showed massive crowds as enthusiastic, as warm, as excited as anything I've seen on countless years of the race over the Pyrenees.
I don't buy the professional Yorkshireman boll*cks, that this is god's own country. But our County is stunning – not just the lavish hills of the Dales but all the brilliant people that came out in Leeds and Harrogate and the towns in between.
Going to bed at three this morning after another late stint at race control, I was feeling a touch emotional. But for all the best reasons.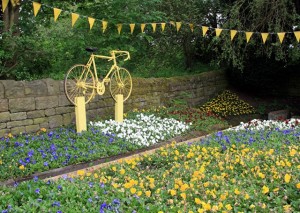 Image credits, thanks to:
Mostly mine except for yellow bike: © Copyright Graham Hogg and licensed for reuse under this Creative Commons Licence.