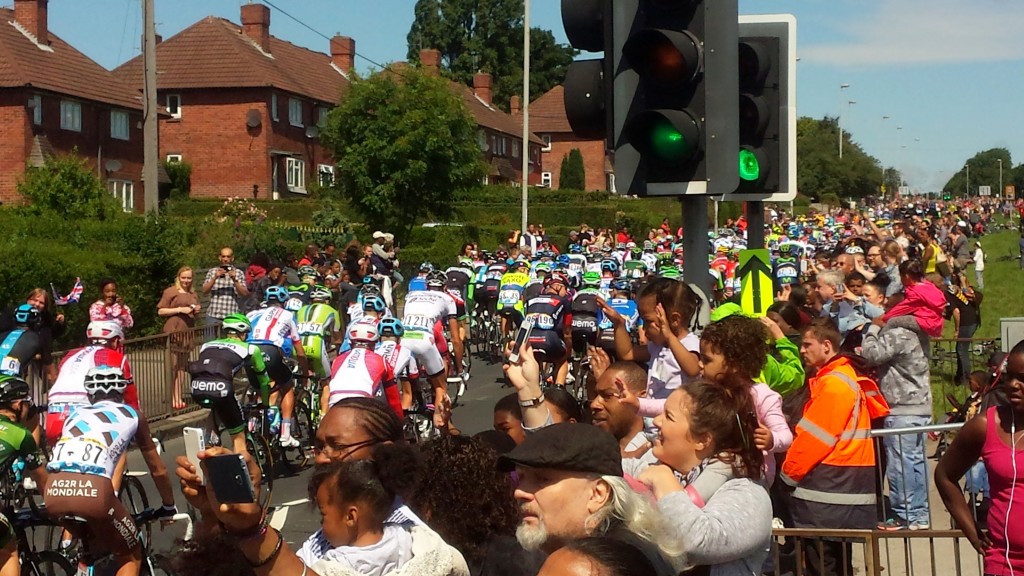 I started writing this post yesterday evening but the words just wouldn't come. Not surprising really. Since Friday morning, I've spent around forty hours in the race control room in Wakefield and also managed to fit in three hours of watching the Caravane Publicitaire and then the Peloton as they streamed up Scott Hall Road.
I'm sure I did actually write something now I come to think about it, but when I woke from a slumber on the sofa in the early hours, my laptop had switched itself off and not even Microsoft Word had bothered to save any. Probably just as well…
So today I abandoned myself to watching Stage 3 on the telly – a shorter ride round some flat places down south and into that London, ending up at the Queen's place.
Day Two in the control room really started at the end of my shift on Saturday night. And now that it's over I can probably afford to share a bit of what's involved.
Race control was divided into two sections. In the centre of Wakefield were the Gold and Silver command people. Possibly slightly over the top for a bit of a bike race but now that we've seen the millions of people who flocked to the sides of the road, maybe we were right to be cautious in our planning. A little way out of the centre of Wakefield were Bronze command or Race Control Operations Room (RCOR) – the real race control people cos they were doing the practical management of the race. RCOR is pronounced R Cor – much like Peter Kay's R Wayne – fitting for Yorkshire!
There were designated gold, silver and bronze people for Venues (setting up starts and finishes and stuff like that); Police; Local Authorities (direct links to each area the race passed through); Stewarding and crowd management; Transport and road closures/openings (my bit); Communications; Fire; Ambulance; Public Health; probably lots more that I didn't come across. Curiously the one organisation I didn't come across all weekend nor on conference calls was Welcome to Yorkshire. Whilst you have to recognise their vision, the bid, the generation of excitement for the Tour, race day planning and execution should be credited to other people and organisations, of which more later.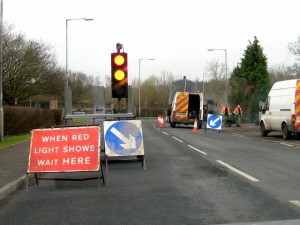 My shift involved a few hours of overlap with head transport guy Dave in the afternoon, taking over in the evening and going home when we were happy that everything was going to plan. Friday night's key activities were ensuring that the Holmfirth road closure went in properly with the right diversion signs, checking that The Headrow closed from midnight so they could set the Start up, and as mentioned previously getting the towing away company to target the vehicles that were in the way of the race route.
Saturday evening was slightly different though because before we were able to get onto planning for Sunday, we had first to make sure everyone from Saturday could get home. As you'll have seen from the pictures, Harrogate was way busier than anyone had imagined. So it was critical to get estimates of crowd numbers, then how many were traveling by train to then work out if we had enough trains and whether people would conveniently show up at the railway station in nice train-sized bundles.
Saturday's tow away challenge in preparation for Sunday turned out to be two-fold: a beer festival in High Bradfield with lots of cars lining the road; and four foreign lorries whose drivers have probably happily kipped in their cabs on Woodhead pass for several years but not tonight…
When I was considering leaving control at around midnight, one of my colleagues had just heard of an electrical fault, which they suspected would involve digging up the road, fixing the problem and retarmacing an area over which 200 cyclists would pass roughly twelve hours later. By the time I got back in the morning that was old news however, and priorities had moved on.
The success of Stage One and the good weather meant that Sunday was a little more relaxed. We had time to watch some of the race on monitors in between checking first on road closures and then road reopening, and after that if cars could get out of car parks effectively and when buses would be back to running normal routes.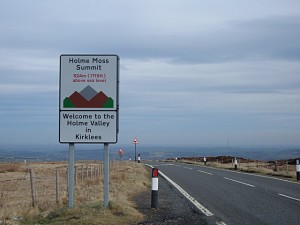 Watching the amazing crowds over Holme Moss was first a concern but then we breathed a collective sigh of relief as it all went really well. Tour officials and riders had been tweeting like mad to get people to stand back when the riders came through, the curse of the selfie being one issue – people taking pictures of themselves with the peloton in the background. What could possibly go wrong with turning your back on 200 guys traveling at thirty miles an hour on bits of bendy metal?!
As Italian rider Nibali sped over the line, for many people in the control room it was time to pack up. ITV presenters were taking it in turns to gush about the amazing two days we had – the sun coming out half an hour before the riders set off from Leeds and spookily the rain setting in half an hour after the peloton crossed the Sheffield finish line.
The acknowledged heroes of Yorkshire's magnificent two days have to be the crowds. Every mile filled with people. Yellow bikes everywhere. Miles of bunting. Dry stone wall sculptures and vast 'side of the hill' sketches. Yellow sheep. Parties of people revelling in traffic free spaces to do their own thing.
But I'd like to share a few unsung heroes. Not because these people did so much more than the others but because they are cracking examples of the amazing things that thousands of people did this weekend to make it great for all of us. And like a good referee at a World Cup match, the reason you haven't heard much about them is precisely because they did their job well and the focus stayed on the show.
Chris in traffic management who stayed out all night on Saturday ensuring that diversion signs were in place, had a kip in his car for an hour and then stayed awake all Sunday to 'just make sure' again.
Jerry from Network Rail who pulled all kinds of favours in to make sure extra trains could go to Harrogate on Saturday evening.
Muriel in our call centre who spent the evening apologising and offering alternatives to people waiting for buses, disrupted by the Headrow closure because the organisers took their time dismantling it.
Jon, the 'night watchman', who calmly dealt with mini crises as though the prospect of messing up a race that three billion people will watch, was no sweat at all.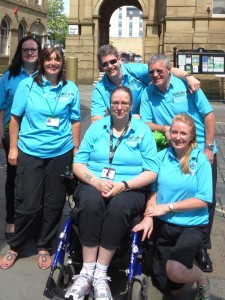 And all the Tourmakers who went above and beyond and received no payment, just the satisfaction of being part of the world's greatest free sporting event.
I'll stop now before I get emotional. But it's at times like this that you feel sorry for those people who aren't us. Good old Yorkshire, eh?
Image credits, thanks to:
Scott Hall Road – mine – please use with a link to this site, ta.
Peter Kay: Peter Kay comedy masterclass at University of Salford 12 December 2012
University of Salford Press Office – Flickr: Peter Kay comedy masterclass at University of Salford 12 December 2012 [CC BY 2.0]
Roadworks:  © Copyright Sarah Smith and licensed for reuse under this Creative Commons Licence.
Holme Moss: Holme Moss Summit by michael ely – From geograph.org.uk – 703760 [CC BY-SA 2.0]