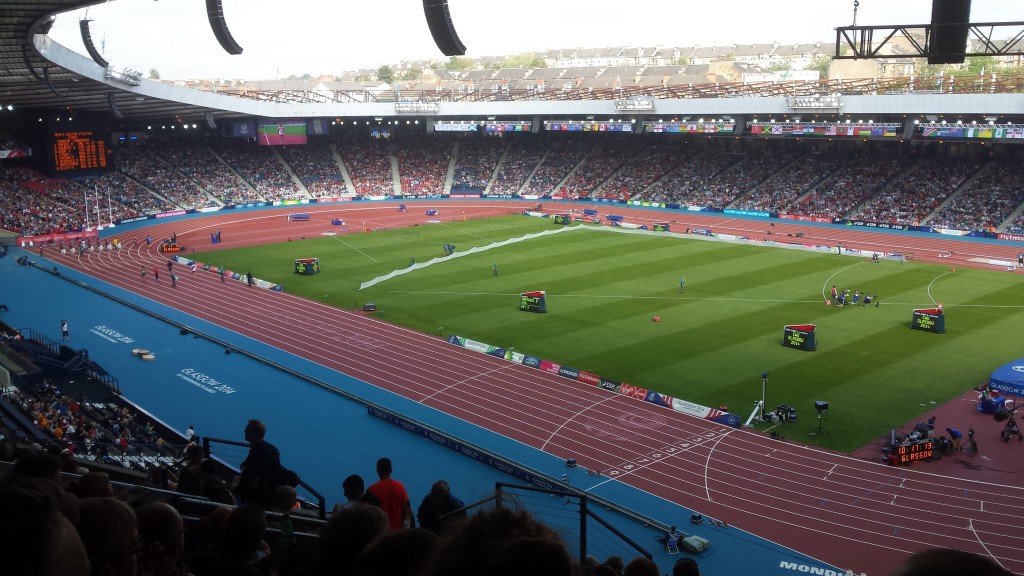 The gentlemen from Strathclyde Partnership for Transport were booming out instructions. Understandable really. They'd been criticised (possibly unfairly) for not managing the crowds trying to get to the athletics stadium the day before.
A day later, we were standing half way down a queue of a thousand or so people for the shuttle buses. Preferring the direct approach our SPT steward clarified the position. 'Thess queue ezz foor Ham'den Park. If yer wanting the velodrome, ye shouldnae be here.' *
Arriving at Hampden, we faced a short route march along the road from the drop off point, up the ramp, through security and up another hill before we even got close to our seats.
Security is airport-style. Electronic gadgets in a tray. No plastic bottles unless empty or sealed. No sharp implements. Walk through the x-ray machine.
I'm in Glasgow with my whole family – eleven of us – in honour of my mother's 80th birthday. Family custom and practice is to recount the story of going through security at the Manchester Games whenever appropriate.
The scene: My mother walks though knife arch, triggering alert.
Security: 'Have you got any sharp metal implements in your bag?'
Mother: 'Just a Swiss army knife.'
Security: 'Why are you taking a Swiss army knife into the stadium?'
Mother: 'How else am I supposed to cut my pork pie?'
The atmosphere inside the athletics stadium was buzzing – friendly, excited, partisan but generous to everyone. We had a spectacular view above the finish line to the sprints, close to the high jump, and well positioned for the throwing events.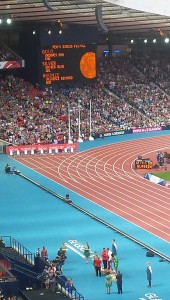 The most awe-inspiring of these were the para-sport discus throwers. Men with a disability affecting one leg or an amputation. My favourite bloke was Richard Okigbazi of Nigeria, a man with one leg who had no intention of doing anything so mundane as getting a prosthesis. Throwing the discus requires considerable rotational power which then spins you round as you let go. Managing that spin by hopping round at speed to absorb the backward momentum whilst staying in a small circle requires balance I can only imagine but do not possess (even when sober). To make the point, Richard hopped out to his starting position balancing the discus on his head.
He gained the bronze medal, gold going to England's Dan Greaves and silver to Welshman Aled Davies. Greaves threw over 59 metres, only seven short of the Commonwealth record for able-bodied athletes.
We were also lucky enough to see the 400m men's heats. You can tell the mark of the real stars who looked as though they were out for a stroll and yet finished just near enough the front to qualify for the next stage. We saw Grenadian Kirani James, Olympic champion, run in long languid strides, the human equivalent of third gear, ready to push up the gears when the race warranted it.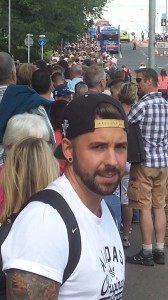 Three hours later we were heading back. Having had some involvement in transport arrangements for the Grand Depart, I was keen to capture some of the lessons from the Games. My attempts to take a photo of the shuttle bus queue (honestly) ended up being photo-bombed by a large South African but you get the idea…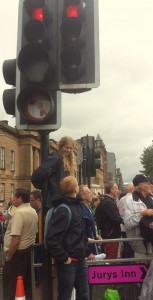 Sunday saw the marathon around the centre of Glasgow which was a very different experience. Unlike the scorching experience of our day at the athletics, the marathon was run in showery cool conditions, where my niece spent an hour and a half balanced on a guard rail clinging to a traffic light.
The speed at which the competitors passed us despite having twenty odd miles behind them was unbelievable. And even more incredible was the sight of an Australian – Michael Shelley – pulling away from Kenyan Chemlany and Ugandan Kiplimo. Trengrove also took bronze for Australia in the women's race behind the two Kenyans Daniel and Kilel.
And last night we went to watch hockey – not a regular sport for me but we thought it might be fun. We arrived a little late having committed two schoolgirl errors.
Firstly we had called in for food at the slowest fish and chip shop in Scotland, a place that sold a range of meal offerings including a 'pizza crunch supper' – battered, deep fried pizza with chips. I have no words to add here…
Secondly we mistakenly asked a Clydesider (the equivalent of a Tourmaker) for the quickest way to the Hockey Centre. He indicated a ten minute walk down the A74 – not pretty but efficient. It turned out that after ten minutes we were indeed very close to the Centre but the security route took us around another three sides of a square before we got in.
A rumour that the anthem for the Games is 'And I will walk 500 yards, and I will walk 500 more…' is not based in fact but would be apposite.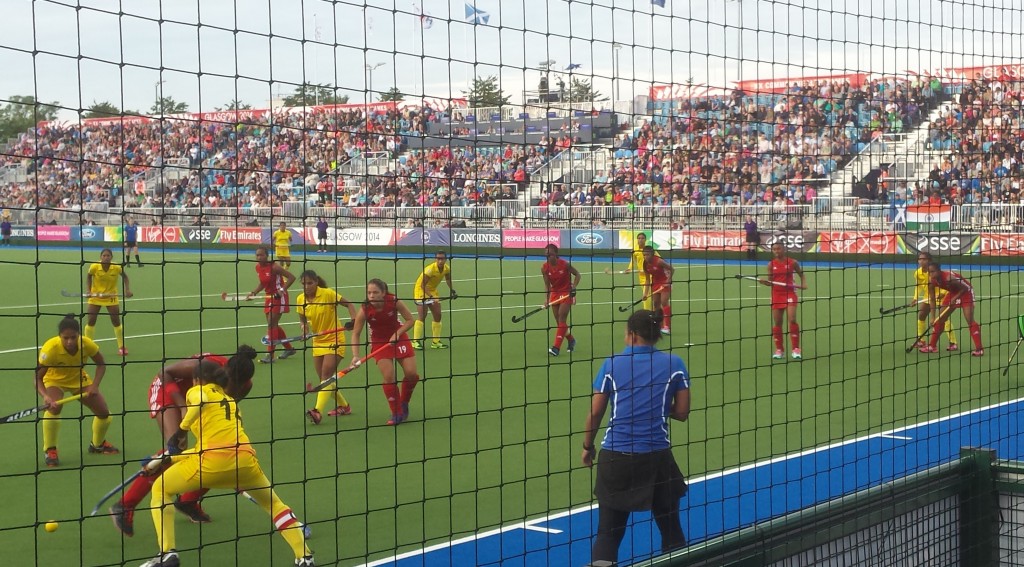 The hockey was fast and absorbing. First up was Trinidad and Tobago against India. Hockey is a national sport in India and it showed. It also seemed that hockey owed a tribute to American Football or maybe Baseball with jingles every time there was a penalty corner, musical interludes and roars from the commentator after each goal, it was a little too brash for some. And given that the Trinidadians lost 14-0, I'm not sure it was helping to keep them positive either.
Strolling back home was a great opportunity to see some amazing Glasgow architecture – I think we'll be back to have a look around in the daytime.
Next post… What, if anything, has the Games got to do with the independence debate?
* The only Glaswegian joke I know…
'What's the difference between Bing Crosby and Walt Disney?' 'Bing sings but Walt disnae.'
Image credits, thanks to:
Me. Ta. Pop a link in to this site if you want to use them.