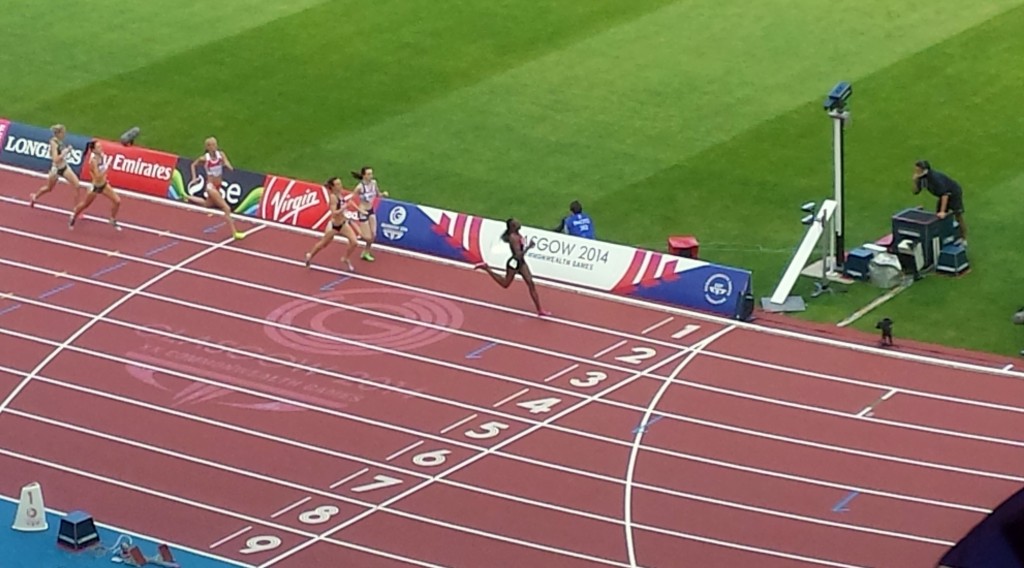 'What do you think of this?' I called across the dining room of the hostel to my brother.
'What's that?'
'Well the guy in this newspaper article says it's been wall to wall Commonwealth Games on the BBC and he's getting fed up of it,' I replied.
'Perhaps he should switch the TV off and go and do something he finds more interesting then!'
We're all up in Glasgow for the so-called Friendly Games – eleven of my family, that is. And it's always interesting going to a new city especially when there's a big event on. You could see the impact of the Grand Depart on Leeds – how people loved the closed streets, the party spirit, the athleticism of the cyclists, the sense of something both international and yet very local too.
I don't know whether Glasgow actively picked up ideas from Yorkshire but there were signs. Cheerful policemen shaking hands and smiling at children. Public transport officials engaging visitors in conversational banter. The Clydesiders (the Games equivalent of Tourmakers) whooping and high-fiving people as they approached the stadia (a little too much for me – I would have settled for something quieter and some clearer signage).
My opinion has changed as the week has gone on. Every evening in our hostel, complete strangers have gathered around two (occasionally competing) televisions to shout encouragement at the tiny people on the screens. We have shared stories of the events we managed to get tickets for. People on buses, in restaurants, and in pubs and galleries, have welcomed us. There has been a pride in the ability of Glasgow to host an event of this size and the complexity of its organisation.
The television coverage opened up events to people who tried and failed to get tickets; to people who couldn't afford time off, or who couldn't afford travel, accommodation or tickets. And it has exposed more people to sports that don't normally make TV – netball, lawn bowls, hockey and badminton – and given them a little boost.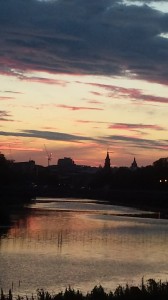 There's a side to the Games that I struggled with though. Take for example the time we were watching India play Trinidad in the hockey. Next to us on the front row were a couple from India. I don't mean a couple from Heckmondwike whose family originally hailed from India, I mean they travelled from India to Glasgow for this week's events. Around the stadium were a few other pockets of people either from India or from Trinidad and Tobago in amongst the largely Scottish crowd with a few people from England and other nearby places thrown in.
Yet at half time we watched on the giant screen an interview with a Scottish athlete about how proud she was to compete in the Games; then we saw a video about a local man and his role in the city. Then the commentator asked us to holler for which side we were supporting, as though this were as ephemeral as a vote on the X Factor, not a reason for many people to have traveled thousands of miles on the trip of a lifetime.
It just felt a bit parochial.
The Commonwealth Games is odd. It's nowhere near as prestigious or as competitive as the Olympics but it does matter to the athletes and their supporters. And it's also a chance to embrace people and cultures from the Caribbean, from East and Southeast Asia, from the tiny islands in the Pacific, from Canada, Australia and New Zealand. And when else will you meet someone from Norfolk Island or St Helena or Kiribati?
For Glasgow though there was something else going on that made me wonder who the Games was aimed at.
The Grand Depart, whilst being very consciously Yorkshire, was aimed at tourism and visiting the beautiful Dales in particular. If we get anything else out of it, it'll be a side effect. But I think the Commonwealth Games was aimed at the Scots themselves. It said to them – 'Look, we can put a great event on, and celebrate what makes us unique and special'. And perhaps by implication we can run a country too.
It doesn't come from a position of arrogance as it might from (dare I say) London or Sydney or Vancouver. It's almost as if Scotland didn't really believe deep down that it could make it happen.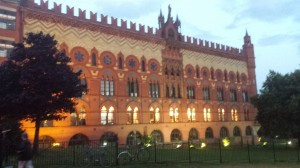 Anyway, I learned that I like Glasgow. I spent a bit of time hearing and reading about Mackintosh. I visited art galleries and shops, and it has nice parks too. And don't let the abrupt Glaswegian accent put you off. They're big softies really.
So will the Games support the vote for independence? Yes undoubtedly. Was it intended to? Well not overtly but implicitly it was about Scotland asserting itself just a bit, but in a nice way.
It'll be interesting to see what happens in the next couple of months. If someone offered me a vote for Yorkshire devolution tomorrow, I'd be tempted. But bottom line we still have EU governance and international law and global capitalism, so I'm not sure how far independence will dramatically affect Scotland's ability to take control of its own destiny.
The Commonwealth Games has shown, however, that Scotland can host a special event, but I think they only needed to convince themselves. Certainly the North of England understands how it feels to have long term under-investment; how it feels to be made to grovel to the centre for funds; to have to tolerate the 'North is behind because London has more innovation and talent' drivel. And sometimes that makes you doubt yourself and what your region is striving for.
The Friendly Games were really good though, and I wish our neighbours well whatever they choose next month.
Image credits, thanks to:
Me! They're all mine. Use them if you want but put in a link to this site if you do, please. That'd be nice.