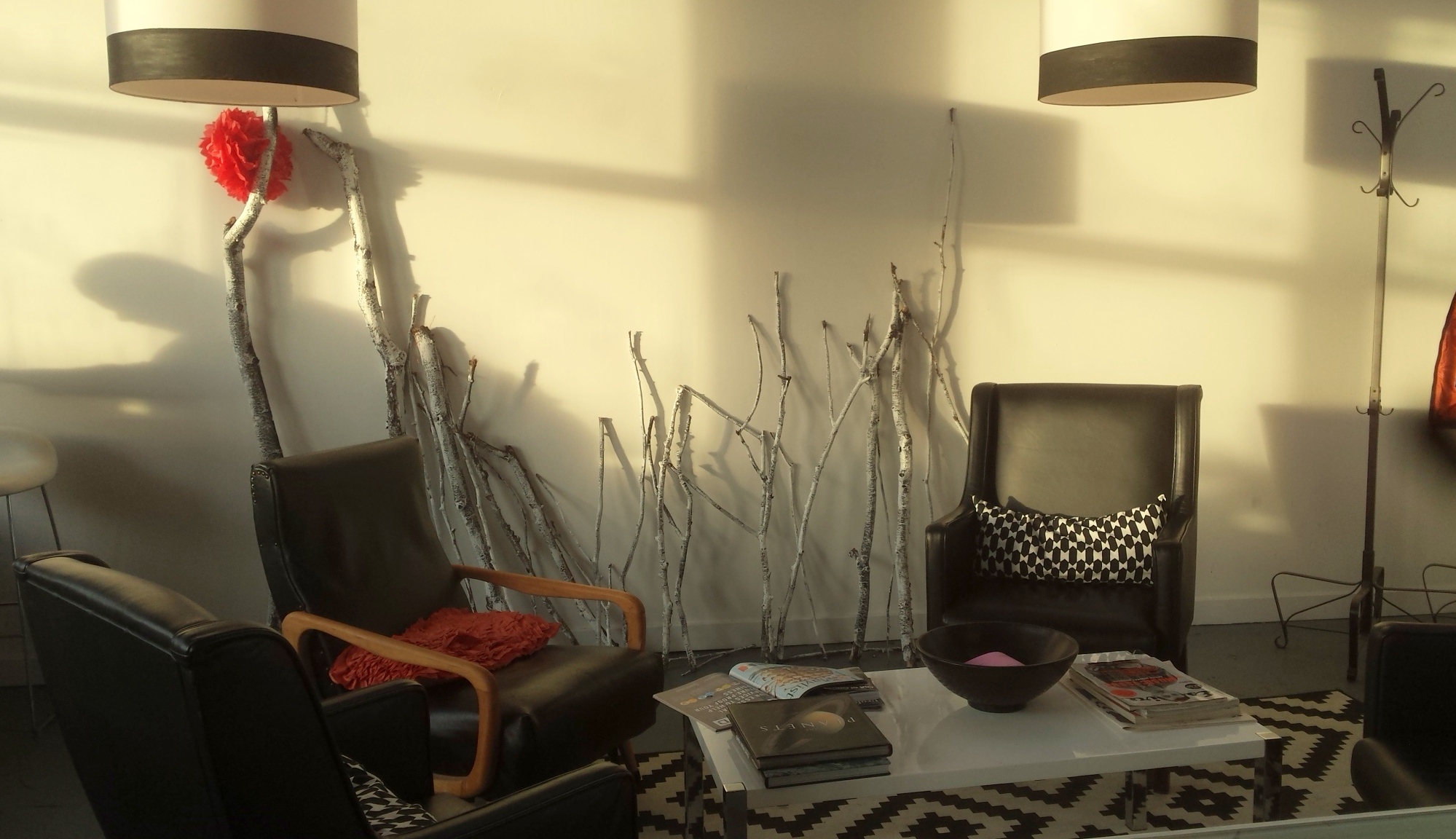 Open Data Institute. Three words that have no business hanging out together.
The Open bit is fine. All welcoming and free and easy. Data? Well it's not for everyone, at first glance a bit dull, unlikely to be the catalyst that kicks off a party. And then there's the Institute bit. Isn't that the sort of place that needs the dust blowing off it whilst grey men with Einstein haircuts and even greyer suits murmur intellectual thoughts in the corner?
But look at the picture at the top though – more IKEA show home than an Institute for anything.
Open Data is an unfamiliar concept for those of us whose lives moved seamlessly from rule-driven schooling to public sector bureaucracy. The public authorities we work for are rightly all too aware of their responsibilities to the people who pay our wages – that's you, the British public. But this can often lead to a fear of letting anything out of our sight in case it gets used in ways that are out of our control. Just imagine all our information, all the data we have going out of the front door. Who knows what questions and problems it could raise!
This risk-averse approach covers lots of other areas too. Project management approaches like PRINCE2 are popular in the public sector because they are designed to keep control of projects whilst devolving enough responsibility that people can get on with doing their bit. In fact I'm a big fan of getting your project governance right but this element of control means that often all the effort goes into the paper trail but there's something missing…
The thinking.
You can spend so much time making sure you've got a mandate and budget tolerances and exception reports and risk workshops that you forget to have really good ideas in the first place.
At work I spend a fair few of my daytime hours trying to bring in smart cards for public transport and other services (similar to Oyster in London), and I can honestly say it's one of the hardest projects I've ever worked on. So many challenges technically, and in designing new processes, and in bringing partners together. Often we have this sense of being on the edge of understanding, needing a bit more help, but not knowing exactly where to go for it.
But the breakthroughs we have made owed nothing to project management tools. It was almost entirely about a few of us sitting around with cups of tea and furrowed brows casting around for solutions that might begin to bridge the gap between where we are and where we need to be.
So is there another way to generate ideas and designs, to innovate more successfully?
Another part of my day job is about promoting cycling, including providing helpful information for new and existing cyclists. Cycling has made some great moves forward in the last couple of years but again we just have this feeling that we're not quite on the right track information-wise. So we decided to experiment with the open data idea. There are datasets about cycle routes, and public health, and air quality, and accidents – and maybe lots of others we haven't found yet. What would happen if you put cyclists and developers and coders into a room together to see what they made of it?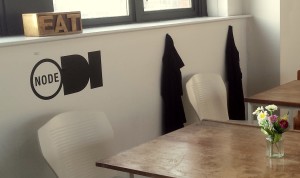 And that's where the Open Data Institute (ODI) came in. ODI Leeds is based on the top floor of Munro House down by Leeds bus station. They're supported by membership fees from half a dozen local organisations and other bits of funding here and there, and they agreed to put on a 'data dive' to see whether a new product or two could be created.
All you need are people with bright ideas, the available datasets, throw in some coffee and sandwiches and a decent wifi set up… light the proverbial blue touchpaper and step back.
And so…
There was a nervous moment or two at about half nine on Saturday morning. Would anyone show up? Did they have ideas? Were those ideas in any way related to what ordinary (non-coding) cyclists wanted? Would I be committing public money to a random group of technophiles with no output at the end? I'm sufficiently senior that I can probably risk a few grand without getting sacked, but it's never a good idea to be complacent about that…
An hour in and I was starting to relax.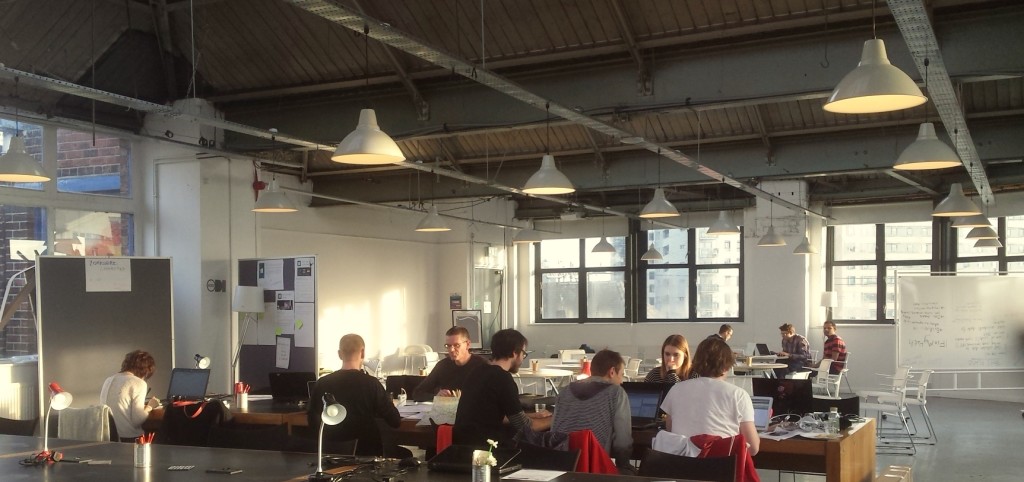 About twenty people were sitting around in mixed and evolving teams chatting about their ideas. These seemed to be coalescing into a small number of related but different concepts. By lunchtime the teams were confident enough to stand up for five minutes and explain where they were going with these. Those who had overdone it at the team-building evening the night before were beginning to be able to focus on the page. Three clear ideas. Three teams.
Sandwiches came and went. Ideas on paper began to appear as prototypes on websites. Functions were starting to be translated into computer code.
And then at four p.m. the denouement! What had they made? Three very different propositions.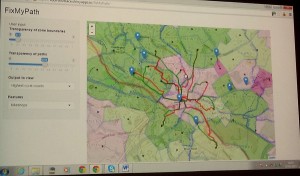 One will be really useful in helping authorities to identify where next to focus investment. It links where people are making cycle journeys (using census data on travel to work) with where routes and facilities are. This in turn can help identify the gaps where improved provision is needed.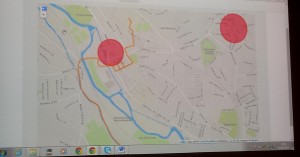 The next linked cycling with air pollution data. Recent reports have shown the massive impact air quality has on public health so people need to know how it will affect them.
And finally an idea of rating cycle routes like ski slopes – green, blue, red, black – and enabling cyclists to feed back on these routes.
'Judging' the ideas to choose the one to take forward was hard. They all have potential and they may all end up being delivered, but in the end we chose the last idea. To map cycle routes by ease of use made such a lot of sense, and to enable customers – Amazon-like – to tell us if we're right. Crowd sourcing feedback on the public offering has to be the way forward.
We spend a lot of public sector time on consultation but to be able to do this in real time to enrich our services seems to be an idea that can be applied across more than just cycling. Anyway, they're off to develop it into a working prototype, and if it works you'll see it. Watch out for another post on this in six weeks or so!
Meanwhile what feels at least as important is…
I spent a day and a half with people who were committed to finding solutions that helped people. A day and a half in a light open space humming with ideas, valuing everyone's input. As one of my local authority colleagues commented 'it felt a bit wonky at times but there's some really good stuff at the end of it!'
Pretty end to the day too.
I may struggle with my next PRINCE2 meeting…